Sep 19, 2018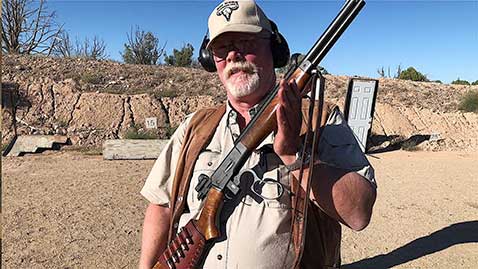 This week, Michael talks about his visit to GUNSITE last week filming for SHOOTING GALLERY. One of the topics covered is using lever action rifles as home defense guns.

Down Range Radio – Podcast Episode #588.
Scroll down for reference links on topics discussed in this episode.

Disclaimer: The statements and opinions expressed here are our own and may not represent those of the companies we represent or any entities affiliated to it.
Host: Michael Bane
Producer: Marshal Halloway
More information and reference links:
Lew Gosnell (Gunsite)
Lew Gosnell (Facebook)
DOWN RANGE Review of the Big Horn Model 89/Ed Head
Henry Big Boy Steel .327 Magnum
Winchester 1892 Clones (Rossi)
Winchester 1892 Clones (Chiappa)
Winchester 1892 Clones (Taylor)
Winchester 1892 Clones (Cimarron)
Winchester 1892 Clones (Navy Arms)
The legendary Browning B92 (discontinued in 1987 by stupid, short-sighted bean-counters…)
And, of course, the original and still in production:
Rimfire Challenge Shooting Association
The Music of Hideo Osaka Ensemble
"Waiting for the Sun"/The Doors


WANT MORE SHOOTING GALLERY? WANT MORE THE BEST DEFENSE? WANT OUTDOOR CHANNEL WITH YOU WHEREVER YOU GO?
Like magic, you can have all that and more. Go directly to MyOutdoorTV